Our systems
We offer two main product groups, which both can be operated with robots and PLC controlled machines:

The COLAS systems are primarily used to determine an object's position and orientation and to turn the robots tool orientation accordingly. It's also possible to distinct between workpieces.

The LASERGUIDE systems are capable of doing online tracking to compensate tolerances and part movements caused by thermal influence in automatic welding applications.


Principle and Installation
In the standard installation in welding applications the sensor is mounted to the root of the tool. See the principle and standard installation with robots below: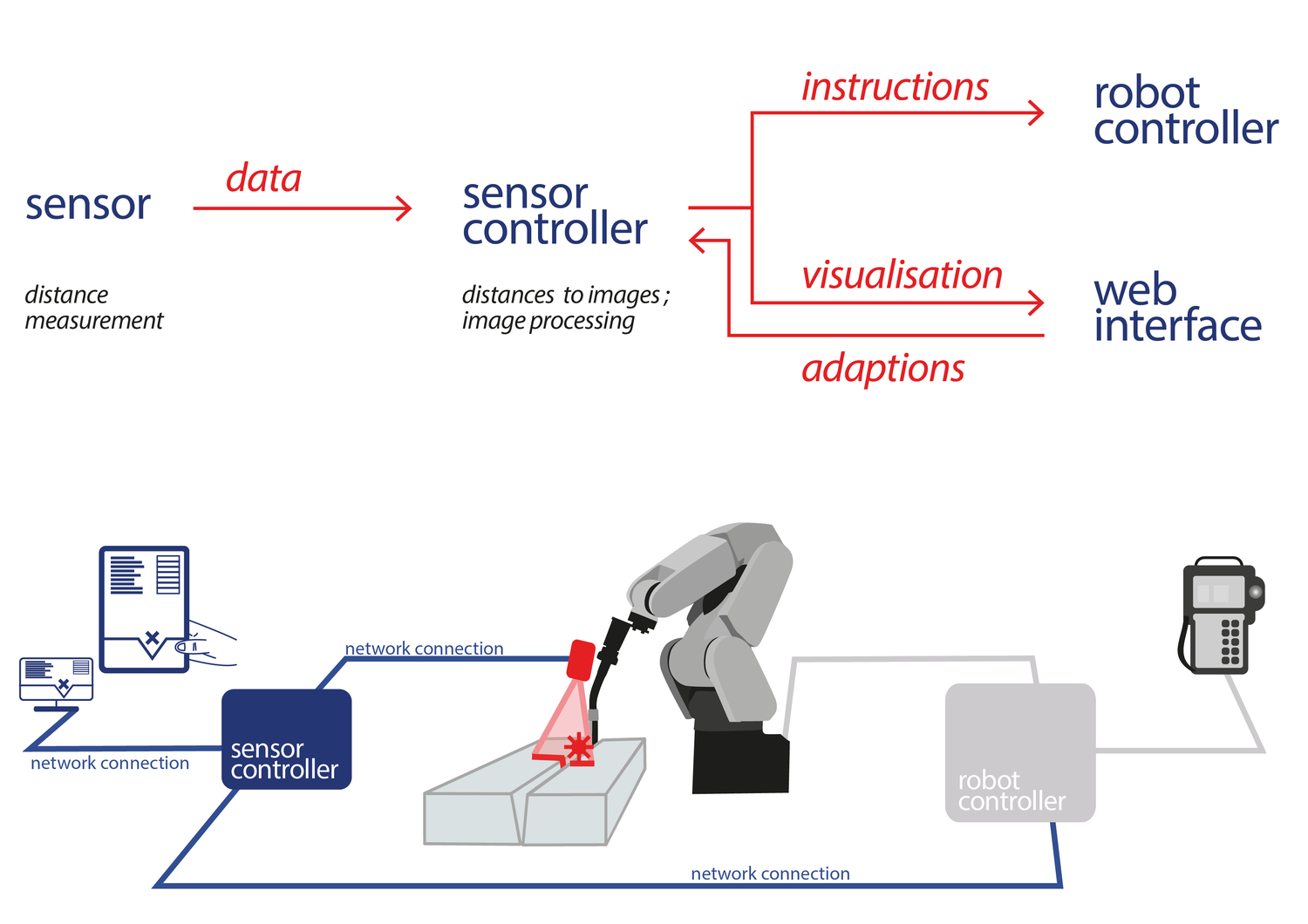 Components
a sensor, the optical measuring head
a computer, where data evaluation and processing is done, and instructions to the robot or machine are generated. Various machine and robot interfaces are available, e.g. Fanuc, Kuka, PLC, analog sled systems, ...
a web user interface, which is used to visualize the results as well as to set various parameters. The system can also be freely programmed if desired with an user-friendly editor.


Sensors
Different conditions and needs require different measuring width, accuracy or a special measuring distance. Therefore, our range of measuring heads is broadly diversified. Our sensors work perfectly, but besides that, under special circumstances, we are open to help finding individual solutions with other optical sensors than we currently offer.


Data evaluation and processing
Evaluating the by distance measurement determined data and communicating with the executing machine -- this is our speciality.

Automatic welding, position determination, distinction between components and quality control ... - our software works reliably in applications that could not be more versatile.
User Interface ( visualization | program adaptions editor )
The web user interface is easy to use. It serves for the results visualisation, as well as for adapting the programs.